The installation of commercial stairlifts is practically done without the need for any other construction work. They are installed according to your specific measurements.
The stairlift are equipped with two remote controls allowing to bring to them the chair without the intervention of your staff.
Custom made curved commercial stairlift is also a winning solution. Some options may be offered such as rail and seat color choices.
Extremely safe and comfortable
A public standard stairchair can be a solution to meet the needs of your customers.
Several churches, community centers, professional offices, municipal buildings and schools choose this type of equipment. It perfectly meets the needs of customers with difficulty getting up and down stairs.
The stair chair is easy to use, so your costumers will easily turn to this solution to access the multiple levels of your building.
Contact us to get a free quote!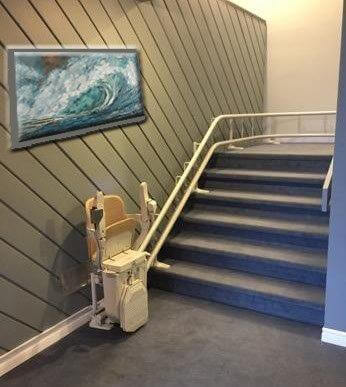 What is a stair chair/stairlift?
A stair chair is a motorized seat that helps people with reduced mobility to cross or descend stairs with greater ease and without assistance. To do this, it moves on rails installed along the wall or ramp, depending on the model, when activated. In addition, this device is usually equipped with an armrest to guarantee the comfort and safety of the user. Also, it rotates so that it can rise directly on the landing.
What is the use of a stair chair in a public place?
The infrastructures present in public places such as shopping centers, libraries or churches are not always adapted to people with reduced mobility. The installation of a stair chair is therefore essential so that they can easily reach the different levels of the building.
How to choose a stair chair?
Several models of stair chairs are currently available on the market. It can then be difficult to find the one that will best meet the needs of your customers. That's why we put at your service experts who will help you make the best choice, depending on your situation. To do this, they generally take into account the following criteria:
Compliance with standards;
The manufacturer and quality of the device;
Technical specifications such as dimensions or the maximum load supported;
The trajectory: straight or curved;
The design: presence of armrest or footrest, manufacturing material, comfort of the seat;
Features: swivel seat, folding, easy to handle;
The price of the device and the cost of installation.