Stannah Curved Stairlift
Installing a Stannah curved stairlift is an art that En Mouvement masters. The 260, made to measure to fit precisely your curved staircase, will allow you to enjoy your whole home again, in complete safety. Its versatile design allows it to be placed on either side of the stairs making the best use of a narrow staircase.
The Stannah Curved Stairlift Is Custom Made
Custom made to fit any staircase, the Stannah curved stairlift 260 saves you the cost and the trouble of moving to an unfamiliar home. Its versatile design allows it to be placed on either side of the stairs and it can also go safely up several stories. The Stannah chair lift for stairs 260, when modified by the Atlas engineer, is one of the few approved products by the Régie du bâtiment du Québec, for stair climbing.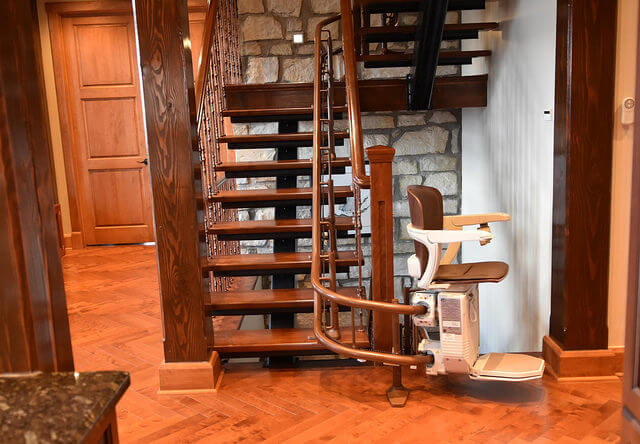 Elegance guaranteed
This stairlift is designed for curbed stairways, it is elegant and safe. Custom made for your residence according to your staircase.
You will have the possibility to select the specific colour of your rail, ensuring a complete harmonization with your decor. Various seat options are available.
It is possible to install the stairlift on the railing side or the wall side depending on what best works for your residence and your needs.
Safety
Curved stairlifts are equipped of several security systems making their use completely reassuring.
This system is solidly affixed to your staircase according to the standards of the Régie du Bâtiment du Québec.
Small Footprint
The footrest, the seat and the armrests retract allowing for the stairs to remain safe and clutter free for the use of the other family members.
Stannah curved stairlift Options
Motorized swivel turns the seat effortlessly
The swivel seat permits to sit down and stand up, in complete security, at the top of the stairs. Equipped with a safety belt, the Stannah 260 stairlift is perfectly safe.
Siena Seat
The comfortable Sièna seat is offered in beige, it is also available in five other colors as additional options.
Starla Seat
This luxurious seat is designed to provide additional options such as vinyl finishes with wood borders. It is also possible, with the pressure of a finger, to press a button powering the retraction of the footrest. Several options of colour and vinyl are available.The rail is attached to your wooden steps and nothing touches the wall, except your call buttons. The system is backed by a 2 year warranty and 5 years on the motor.
Features
The footrest, seat and armrest completely retract and allow other family members to normally use the stairs.
To ensure total safety, every edge of the footrest is equipped with sensors to detect obstacles on the stairway, either located above, below or in front.
The removable key prevents unauthorised use, especially by small children.
The security sensors located on the carriage block finger access and will stop all movement if an obstruction is detected on its way.
Maximum Length : 114 feet (35 m)
Maximum Load : 265 lb (120 kg)