Several solutions could be available to meet both accessibility standards for people with reduced mobility, customer needs and your budget. The design and construction of these developments must take into account all these criteria in addition to construction standards.
The available models could be:
 An elevating platform in an elevator shaft such as the 130T model that can reach 23 feet of running for the public standard. This unit can be delivered with cabin interior in hardwood, stainless, polycarbonate or other.
 A platform with an oblique trajectory installed directly on the stairs. This device has the advantages of folding and functioning without the need for a well. This model is called AC-105.
 An elevating platform without sheath, or with polycarbonate sheath such as vista 355.
These products can be offered with different options including the color of your choice, various sizes, choice of control buttons and others.
It is also possible to add motorized door openers.
Consult us, your expert team.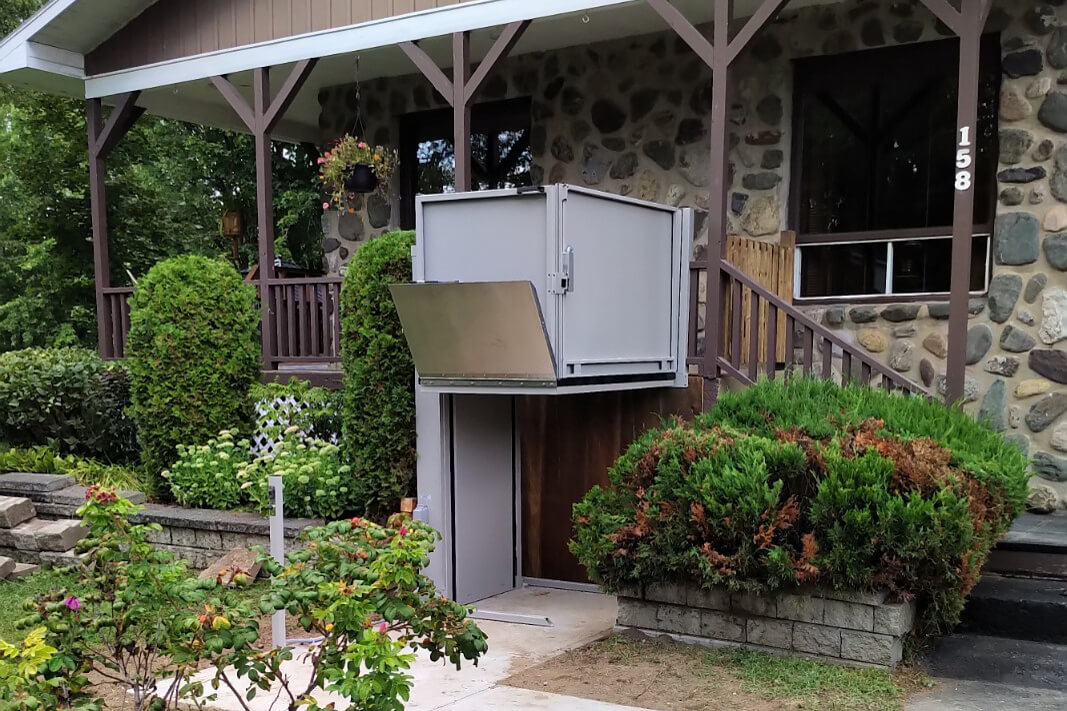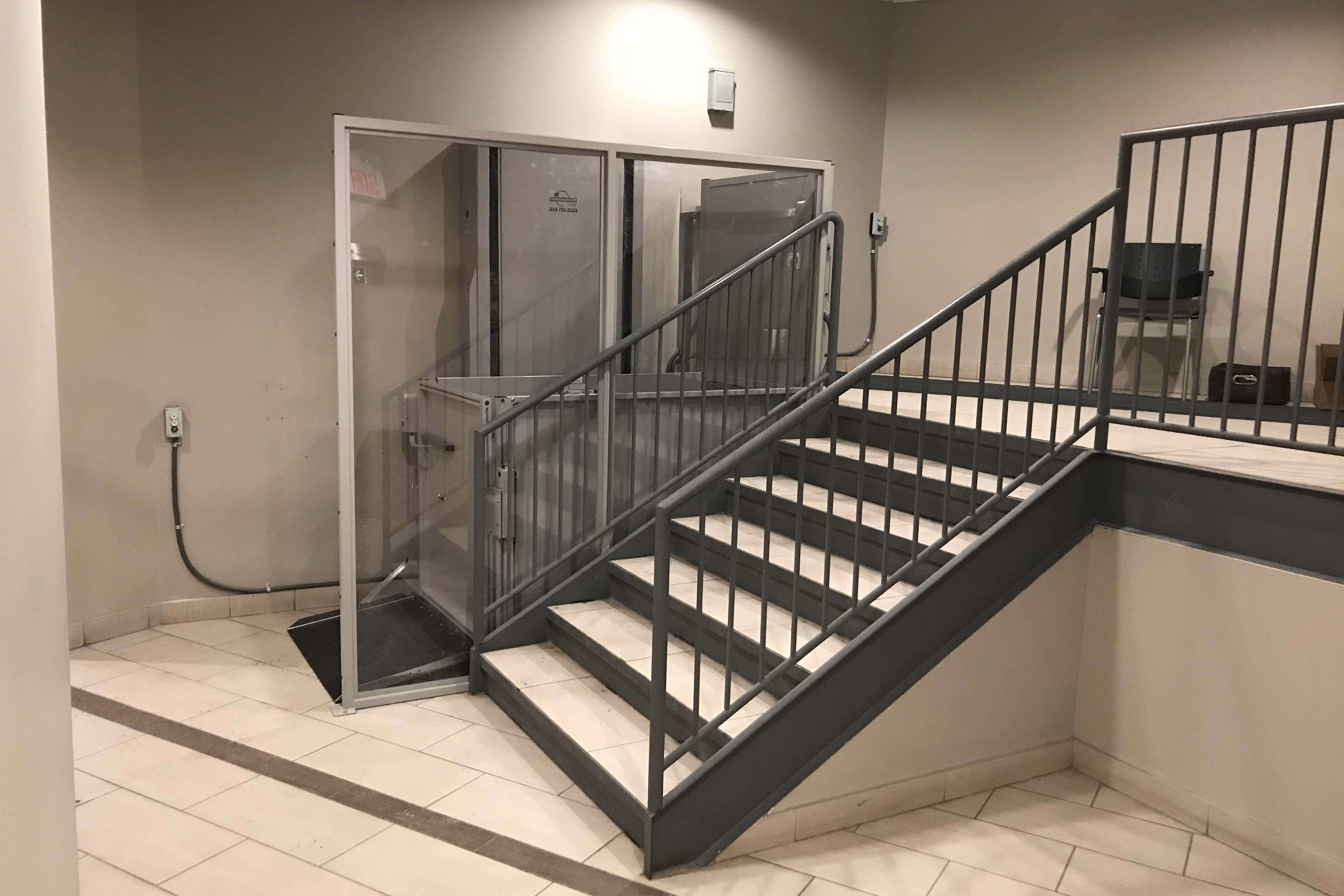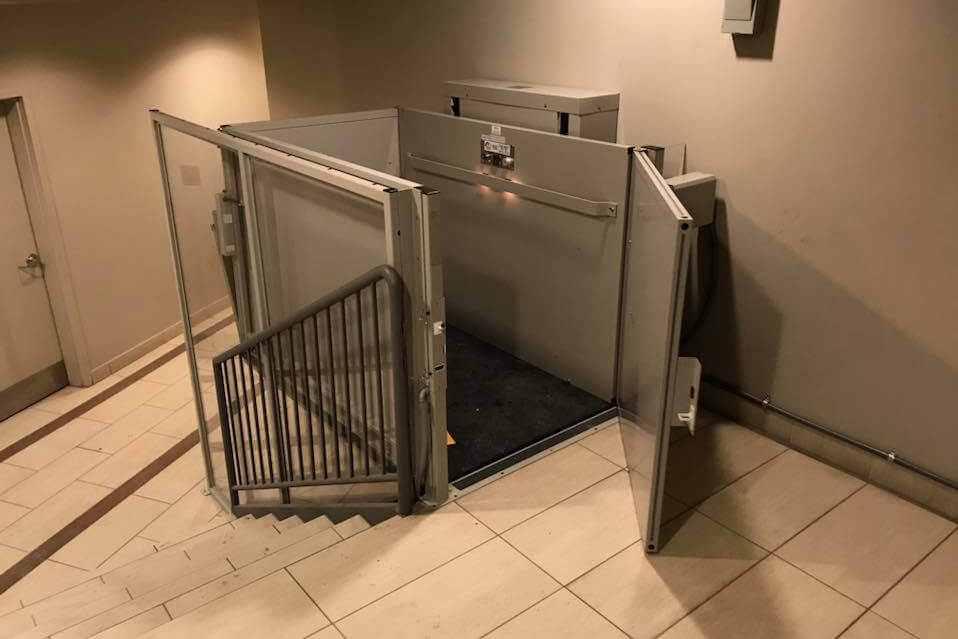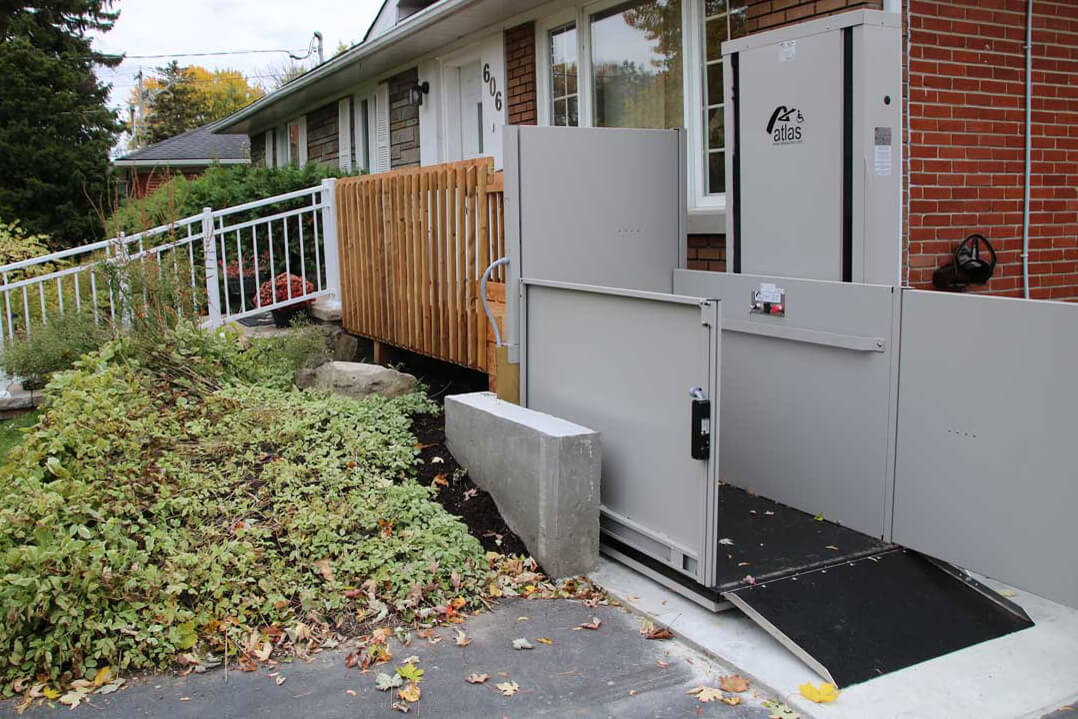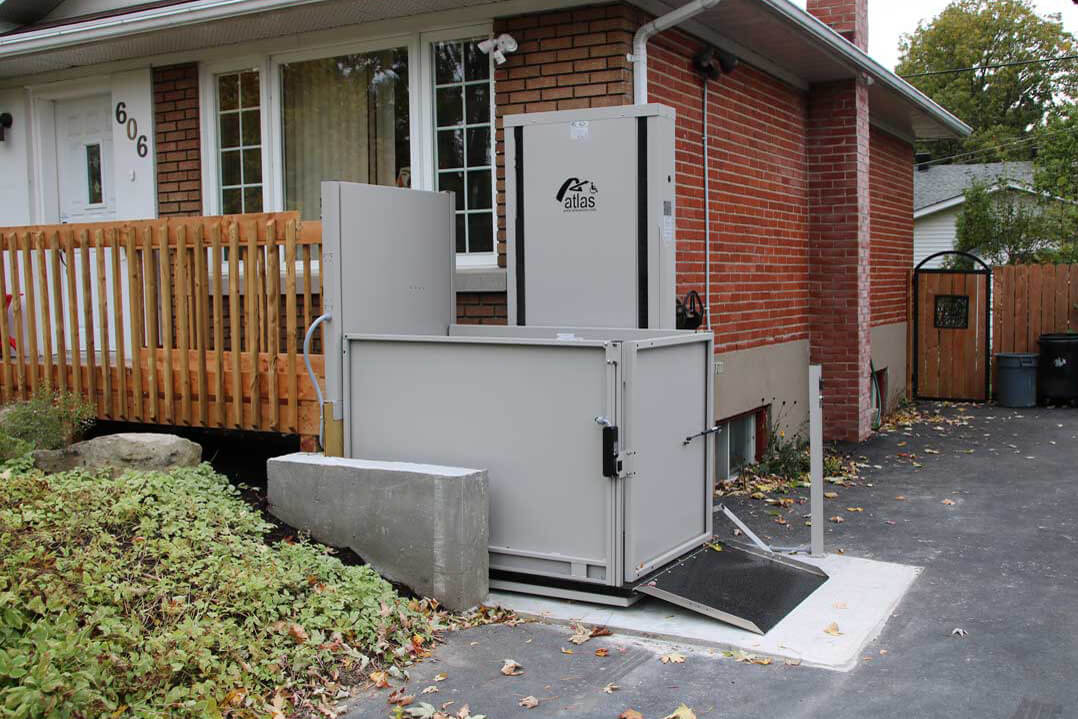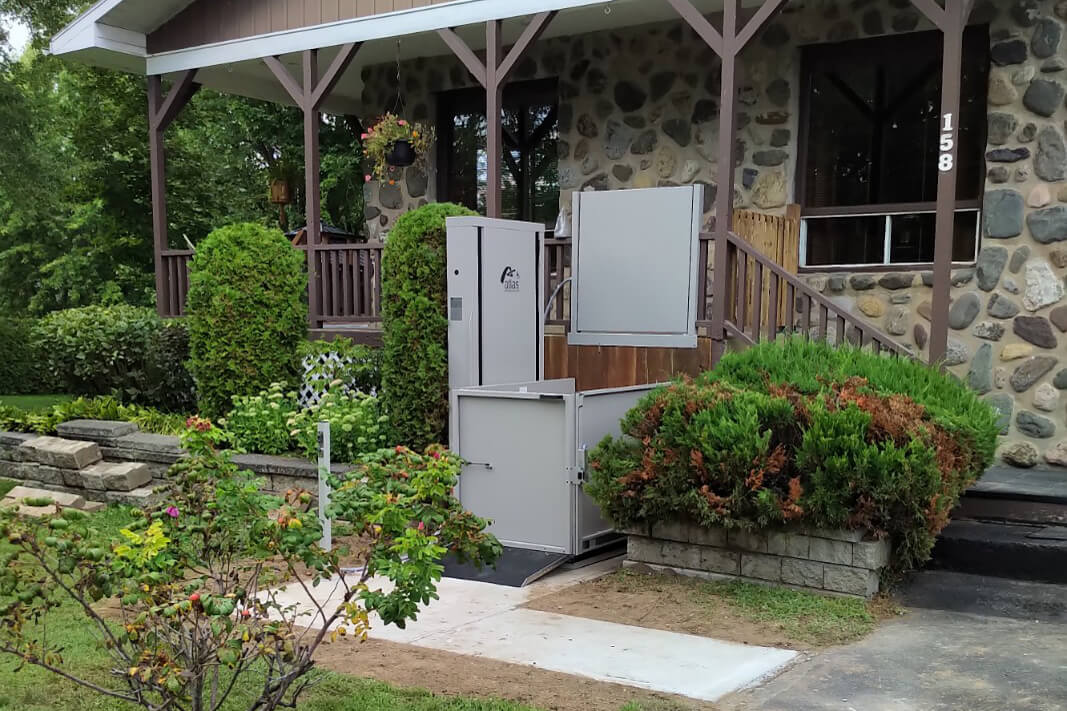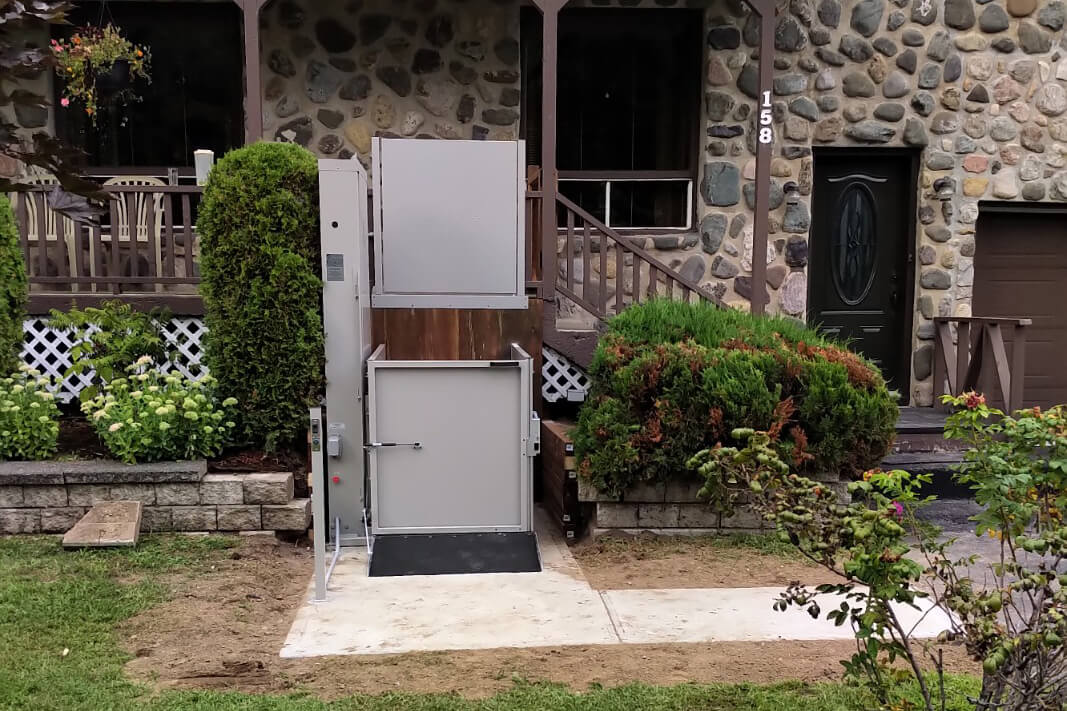 What is a lifting platform?
As mentioned above, a lifting platform is therefore a motorized device through which it is possible to access the different floors of a building without getting out of the wheelchair. It can be installed both indoors and outdoors and comes in several models, including:
Conventional lifting platform: fixed with vertical trajectory;
Mobile lifting platform: portable with vertical trajectory;
Oblique lifting platform: fixed with oblique trajectory, installs at the level of the stairs instead of a stair seat.
The advantage of the lifting platform to the outdoor access ramp
On the one hand, it requires less effort thanks to its motorized system. On the other hand, it is safer for outdoor use, especially during the rainy or snowy seasons. Indeed, it is usually equipped with a non-slip floor to prevent the wheelchair from slipping. Also, the user is not likely to fall during the trip since the device is fenced.
How to choose a lifting platform?
Here are the criteria to consider when  choosing a lifting platform:
The trajectory: vertical or oblique depending on the infrastructure present on the premises;
The model: fixed or portable depending on the use;
The technical specifications: dimensions of the platform, maximum load supported, the number of people it can accommodate or the running distance;
Available options;
The price of the device and the cost of the installation work.
Do not hesitate to contact us if necessary!
Do not hesitate to contact us if you would like additional information about our products and services. We remind you that we can also take care of the installation of the device and any work related to home adaptation.
To reach us, call us by phone, send us an email or fill out the online contact form directly. We even open the doors of our premises so that you can discover and try the products.