Inclined elevating platform
The adaptation of a building can sometimes go through an inclied elevating platform instead of vertical platform. The AC-105 inclined platform provides inclined-path travel on straight stairways. The softness of this platform will transport you in comfort. The aesthetic and ergonomic "design" of the lifting platform is ideal for any type of residential home, school or public places. Folding on itself in a motorized way, this platform allows to clear the staircase for the passage of the other users.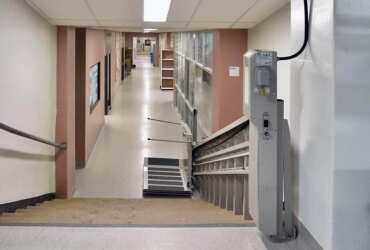 We can design the plans, their modifications and their acceptances by 
the municipality in order to obtain the necessary permits for the project.
We deliver a turnkey project that will meet the National Building Code.
What is an oblique lifting platform?
As the name suggests, it is a lifting platform with an oblique trajectory. It allows people with reduced mobility to move from one floor to another with their wheelchairs.
Unlike residential elevators, it does not require major infrastructure work since it is installed directly on the stairs. In other words, it combines the comfort of elevators and the practicality of stair seats.
The technical characteristics of the AC-105 oblique lifting platform
The AC-105 oblique lift platform operates using a sprocket mechanism with gear chain. It moves at a speed of 15 FPM, or 0.08 m/s at a customizable distance, depending on the height of the staircase. It can support a maximum load of 500 lbs, or around 225 kg. In addition, it has an anti-slip floor to guarantee the safety of the user at all times.
Buy your AC-105 oblique lifting platform from us!
Present on the market for more than 15 years now, we offer atlas' AC-105 lifting platform in our catalog. We guarantee the authenticity of the product as well as its compliance with the standards in force in the country.
We also take care of its installation. To do this, we put at your service highly qualified professionals who will carry out the work in compliance with the regulations for a quality, safe and durable rendering.
Ask our experts for advice in case of doubt!
The AC-105 oblique lifting platform seduced you but you do not know if it suits your situation? Our experts will be happy to help you make your choice taking into account all the factors, including your needs as well as any additional work to be done. We also offer many other devices that could be better suited to your case.