Vista 613
The elevating platform Vista 613 allows a wheelchair user to have direct access to his home through the front porch or the patio. The lift can be used for a situation where the rise is up to 8 feet. It comes with a capacity of 750lbs or 1000lbs version and is manufactured in Québec
Vista 613 elevating platform – Engineered for the exterior of your residence
The Vista 613 elevating platform is built in Québec; it is engineered for the exterior of your residence. The platform is an ideal solution allowing someone in a wheelchair to transfer from the sidewalk to the balcony, no matter the season, in complete safety. The robust elevating platform lift is engineered to accommodate someone in a wheelchair and their caregiver.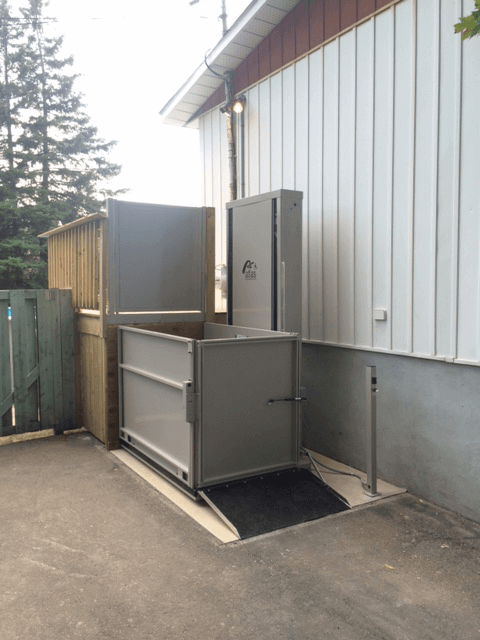 Operation
The platform lift will move smoothly and is always battery powered with an automatic recharge function. It will operate even during a power outage. It complies to CAN/CSA-B613-00 code, so it has the highest safety features and will suit you needs for years.
Dimensions
It is possible to make your platform to measure, taking into account the environment and the needs and limitation of the user. The standard cab size is 34″ x 54″ for a wheelchair user and 34″ x 60″ for a wheelchair user and another person. Many other dimensions are possible.
Mechanism
The platform uses an ACME screw with an arcetal bearing, a highly resistant material.
Elevating platform vista 613 – Specifications and features
Maximum capacity: 340 kg (750 lbs) 1000 lbs option
Maximum travel distance: 2500 mm (98in)
Nominal speed: 0.05 m/s (9fpm) 14fpm option
Typical floor dimension: 860 mm x 1370mm (34 in x 54 in)
Controller and panel: industrial grade components from Télémécanique
Weatherproof control buttons
Flexible paint finish resists shocks
Anti-skid floor surface